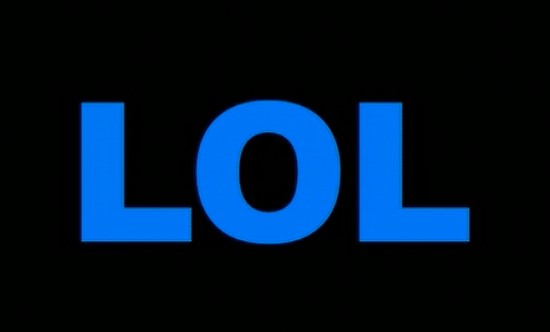 News flash! LOL means laughing out loud.
Meaning, if somebody makes you laugh out loud, you write LOL back. Pardon me, but ya'll know I can be quite literal. Anyway, I always say there's two kinds of funny. If you react to something saying, "that's funny," the joke probably didn't tickle you much. But, if you literally bust out laughing, especially when reading something, chances are it was funny. Notice, on top of saying LOL, when it's out loud funny, you'll actually tell your friend,"dude, I literally laughed just now."
The thing is, LOL has lost its value. Shoot, I'm a violator myself. Personally, it has turned into a one word answer when I try to speed up conversations. It has many functions, though.
Ladies, say some cocky ass dude you know sends you photos for whatever reason and writes, "don't I look like
Morris Chestnut
" at the end of the email. You may wanna reply with, "LOL." See, if dude has a fart face, it may have actually been funny, but not out loud funny.
Say some bum ass publicist chick is sweating me on IM. She's pitching away and at some point randomly says," "so, when are you writing about my client." I'll respond,"we'll see, LOL" just so she gets off my freakin' cabbab.
Then, there's the nervous LOL. The LOL you type because you're being dead ass, but you're too much of a punk to just come out say what you have to say. That way, you can always say, "but I said LOL" when things don't go your way.
You know what's sad, I'll probably remain an LOL violator. And if one of you guys call me out on it, I'll just delete this post and act like I don't know what you're talking about. Any of you got some LOL stories?