Paula Patton Thicke Chery...
Men have contributed to women's delusions of beauty as much as their insecurities.
I vividly remember riding the F train back in the Jamaica Queens days and seeing some Micky D's After Dark dweller sweating this chick on the train. She was no looker, trust. In fact, she was pretty busted. Like, way below average. The thing is, she had A Phat Arssss! You swore I was watching a thriller the way I sat back, stared and refused to look away.
As busted as she was, shorty was feeling herself and totally ignored dude's "courting." Feeling rejected, the dude proceeded to, what else, insult her. "Damn, miss! I know I'm ugly, but you're ugly too." He was dead on. Momentarily breaking from my "I don't know you so I mind my business" ways, I offered some words of funkydom.
Carl:
Dude, if you thought she was busted, you should have left her alone.
Dude:
I know, son. I know.
Carl:
Shorty's busted, but she's running around thinking she's bad cause dudes are gassing her up.
Dude
: You right, son.
Pftttt! This douchehole probably tried the same thing with the next girl the second I got off the train. Now, I'm not saying women or men for that matter shouldn't be confident and have high self-esteem. But don't just tell a girl you don't think is pretty she is just because she got a bubble and all you really wanna do is grab it. That just ain't right.
I know I'm a killjoy, but it's fun for me. I'm pretty petty, picky and particular. [
Blogger's Note: If anybody knows a gym where I can box against Mark, holler! We've been cyber feuding over Freida Pinto. Hey Mark, Shotgun!!!
] But yeah, some folks refer to women they find attractive as cute no matter what. Me and Sam please say the Ed were just debating on this. A woman can be considered bad whether she's cute, pretty or gorgeous. Bad references the whole package, face, body, sex appeal, sense of style, etc. We did disagree on Keri Hilson, though. While I find her to be a low end cutie, Sam Ed considers her high-end— a bad one. I pretty much go by the quasi universal scale...Cute > Pretty > Beautiful...Sexiness not included, strictly faces.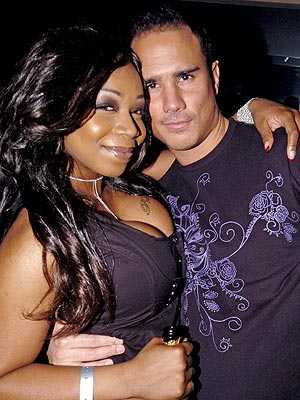 New York...
Ugly/Busted/Hurt:
Facially challenged.
Rating:
0-4
Wifeability:
5%...Men are monsters. As previously mentioned, a donky goes a long way. Plus, Yeezy said it best: "Henny make girls look like Halle Berry to me."
Under the wrong influence
, dudes may do what they have to do and not tell their friends about it.
Michelle Williams...Average/Aight/Cool/Ok:
Ehhhhhh!
Rating:
5-6
Wifeability:
50%...Beauty is subjective of course. Depending on the beholder, an average looking woman can be perceived as cute or ugly.
Amerie...Cute:
This is when grades get curved. Again, we all have different standards. One man's cutie is the next man's gorgeous. Pretty girls sometimes fall under cute when too young looking.
Rating:
7-8
Wifeability:
80%...Must wife if she has it all together.
Lauren London...Pretty:
A certain je ne sais quoi sets them apart from the cuties. Teeth, eyes, skin tone, whatever.
Rating:
8.5-9
Wifeability:
90%Unless she's crazy, you better wife it.
Beautiful/Gorgeous:
Dime! Top of the food chain. Near flawlessness in some cases.
Rating:
9.5
Wifeability:
95%...Wife it even if she's crazy. Well, maybe not. Still, gorgeous women get away with murder, mainly ditzism, imbecility and bitchiness.
Notice, even dimes don't get the 10. There's no such thing as perfection, but there is a penthouse. Every now and then you see a woman and just can't get over how good she looks. See Paula Patton Chery. She's like extra gorgeous— breath taking, but no need to add an additional marker. As far as sexiness, it doesn't always go hand in hand with good looks so I didn't bother. Go ahead and share your thoughts in the comment section. Now, I know better than to ask you ladies where you think you fall on the scale. You'll prolly pull a "
Do You Think You're Funny
" blog and all say you're gorgeous. Hey! I respect it! And compliments are great. Just know you don't need a damn man to make you feel that way.
PS: Don't take these blogs too seriously, 'cause I sure don't.